bioDensity enables to place for 5 seconds adequate pressure on the musculoskeletal system, signaling the body to add new bone and muscle tissue.  Perfectly natural, the results are both real and measurable.
It's not a gym, diet, supplement, pharmaceutical or a medical treatment.
It's world's first scientifically proven non drugs option that offers significant increase in bone density in a safe manner, even for the most high-risk patients.
It's based on the principles of Osteogenic loading. Brief, intensive resistance forces, designed to stimulate the bone's natural ability to increase bone mass and strength.
It's safe, effective and fast.
It improves the overall health, musculoskeletal system, and a number of medical conditions and health concerns.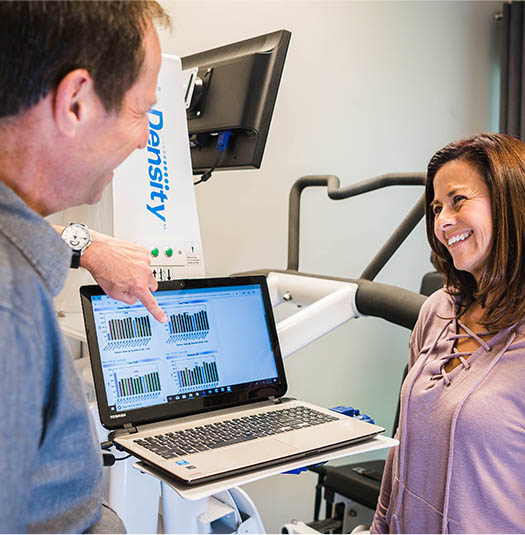 Bisphosphonates are generally the first line of defense for patients diagnosed with osteoporosis. The risk of side effects can make this a complicated decision.
bioDensity offers a highly effective, evidence-based musculoskeletal strengthening program to compliment pharmaceutical treatment and as a preventative protocol.
The greatest effect on bone strength and health is the result of high-impact activity. Hundreds of studies have confirmed this, even identifying the minimum dose of force required through bone as being over 4 times bodyweight in the hip joint.
As adults, impact becomes associated with injury therefore adults intentionally avoid impact and thus even those who engage in exercise often fail to maintain bone health.
bioDensity utilizes a series of four musculoskeletal exercises, high impact emulation, without the associated risks, providing a physical medicine option that has no side effects.

Bone Density

Strength
Increase Muscular Strength

Less Joint & Back Pain

Posture

Balance

Athletic Performance

Agility

Blood
Reduce
Blood Glucose Levels
Cholesterol
BioDensity | The Most Effective Non-Drugs Bone Health and Strength Option